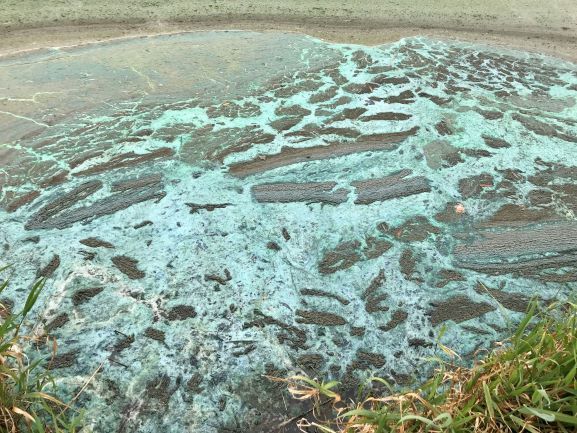 30 Jul

Cyanobacteria – Is My Water Safe?

Recently, cyanobacteria, also known as microscopic algae, have become a popular topic throughout the United States. The Environmental Protection Agency (EPA) has labeled these algae blooms as potentially "harmful to human health and aquatic ecosystems" and have been looking for ways to limit them (EPA.gov). If you are a pond owner or have a lake property, understanding cyanobacteria can be greatly beneficial.

All algae use photosynthesis in order to increase their biomass. This process includes converting sunlight into chemical energy and releasing CO2 in the process. They also use nutrients such as nitrogen and phosphorous to increase their biomass. These nutrients are naturally occurring, but can also come from waste, yard fertilizer, and leaves. Cyanobacteria, which are microscopic algae, perform this process very quickly and reproduce rapidly. This can naturally occur during the hot summer months when the water becomes stagnant and is most exposed to sunlight. The combination of the overflow of nutrients and hot, static water can cause cyanobacteria blooms.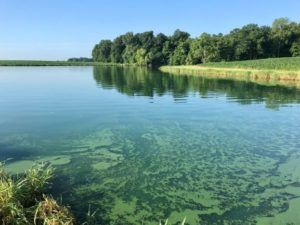 Cyanobacteria blooms are usually not visible until the microscopic algae take up most of the water column. When this happens, they will form a foam or scum-like substance on top of your pond and can make a greenish-blue color. This can almost look like a can of green paint spilled into your pond. These blooms have the potential to create toxins, also known as cyanotoxins. These toxins can irritate and harm pets, humans, and other aquatic animals that come in contact with them. According to the EPA, people can be exposed to these toxins by "ingestion of drinking water contaminated with cyanotoxins and through direct contact, inhalation and/or ingestion during recreational activities." However, not all algal blooms create toxins. There are approximately 2000 species of cyanobacteria, in which 46 of these produce toxins (Hitzfeld et. al 2000). Likewise, it is not guaranteed that any bloom will release any of the toxins either. Although the percentage is low, it is impossible to tell if your pond has toxins just by looking at it.